PAUL MENTON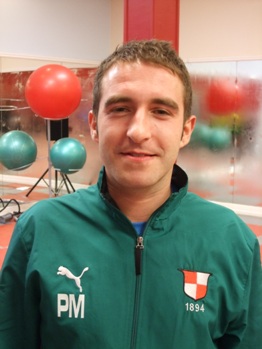 Home sponsor: Away sponsor:
Debut: 2003-04
Position: Centre midfielder
Previous Senior clubs: None
How he signed for Green and Black: brought by his older brother Mark.
Profile: Former schoolboy prodigy who fell out of love with the game and did not play from ages of 16 to 20. After spending his first season impressing in Reserves, Paul has been a mainstay of the 1st team midfield ever since. A skilful playmaker with a good goal scoring record who was Player of the Year for the 2005-06 season and appointed captain for the 2009-10 season. A good club man. Family and work commitments have limited Paul's availability of late so he has dropped down to the Reserves.
Personal comment: "One of Gosforths chuckle brothers, is probably the most unfit member of the squad, his idea of a warm up is a having a full English. The longest serving member of the first team and is a shoe in for a dick of the day this season when he returns from unavailability."
Manager comment (2009-10): "Skipper this season. A quality player who is at home in midfield or up front. Paul has been at the club for a number of years. Well liked among the squad and has quality and the capability to score important goals."
BACK